Independent Dog Chuck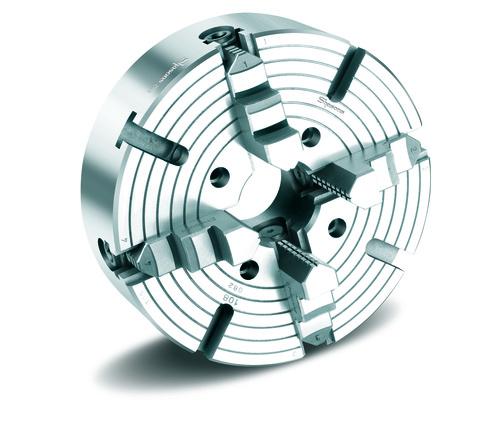 Independent Dog Chuck
Being one of the principal companies, we are engaged in offering a comprehensive assortment of Independent Dog Chuck. Robust in construction, this is demanded for use in medium or heavy duty portable, bench or floor mounted power tools. High quality with fully hardened and ground working materials, this chuck offers unmatched accuracy, gripping power and durability. Further, this Independent Dog Chuck is checked on diverse parameters before dispatching from our end.
Features:
Unmatched strength

Reliable to use

Negligible maintenance
BODY is of high strength cast iron, designed to provide maximum rigidity with minimum weight & overhang.
JAWS are case hardened and ground where required. Jaws are of sufficient length to prevent tilt and rapid wear.
PINIONS are of alloy steel with uniform hardness.Square threads of pinions are precisely cut to reduce pitch error resulting in a smooth movement. These are ground on the diameter & are interchangeable.
LOCKS are of alloy steel & ground on the fitting diameter for precise fit. Locks are Interchangeable.
SPARES are easily available for quick & better service.
Standard Accessories:
Key Handle
Mounting Bolts
Specifications
| | | | | | | | | | | | | |
| --- | --- | --- | --- | --- | --- | --- | --- | --- | --- | --- | --- | --- |
| Size | d1 | d2 | d3 | d4 | d5 | t | h | K | T | L | H | G.Wt in Kg |
| 100 | 101 | 80 | 60 | M8 | 25 | 5 | 53 | 6 | 19 | 47 | 22 | 3 |
| 6"L.W. | 153 | 70 | 58 | M8 | 40 | 5 | 54 | 6 | 19 | 47 | 22 | 5 |
| 160 | 161 | 125 | 140 | M8 | 45 | 6 | 66 | 8 | 24 | 54 | 23 | 8 |
| 200 | 201 | 95 | 80 | M8 | 50 | 8 | 81 | 10 | 29 | 73 | 30 | 14 |
| 250 | 251 | 125 | 105 | M12 | 60 | 9 | 81 | 10 | 29 | 73 | 35 | 21 |
| 305 | 306 | 160 | 130 | M12 | 75 | 11 | 91 | 12 | 34 | 100 | 46 | 36 |
| 350 | 351 | 160 | 130 | M12 | 85 | 11 | 91 | 12 | 34 | 110 | 50 | 44 |
| 400 | 401 | 200 | 171 | M16 | 100/127 | 11 | 101 | 14 | 40 | 120 | 55 | 65 |
| BB BR-400 | 401 | 260 | 230 | M20 | 127/160 | 13 | 101 | 14 | 40 | 120 | 55 | 65 |
| 450 | 451 | 200 | 171 | M16 | 100/127 | 11 | 101 | 14 | 40 | 120 | 60 | 75 |
| BB BR-450 | 451 | 260 | 230 | M20 | 127/160 | 13 | 101 | 14 | 40 | 120 | 60 | 75 |
| 510 | 512 | 260 | 230 | M20 | 160 | 13 | 125 | 14 | 47 | 145 | 65 | 115 |
| 610 | 612 | 260 | 230 | M20 | 160 | 13 | 125 | 14 | 47 | 170 | 70 | 150 |
Contact Details
JAINSON SALES CORPORATION
821, Industrial Area B, Link Road, Ludhiana - 141003, Punjab, India
Phone : +918068090897
Fax : 91-161-5023050
Mr Vishesh Jain (Partner)
Mobile : +918068090897
Mr. Deepak Jain (Partner)
Mobile : +918068090897